No-let squash: When "yes, let" is not an option…
What if there were no "lets" in squash? No lets, period. Just "strokes!" The only question is who gets the point?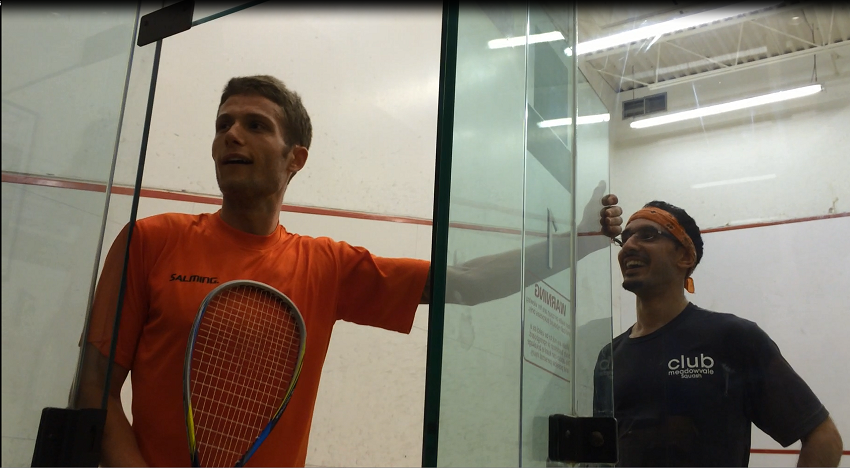 This may be old news to some of you who have followed the Professional Squash Tour (PST). For a few years now, the US-based PST has been running its tournaments under the no-let rule. The premise is that every rally will end with a point being earned by one of the players. Endless stoppages with players arguing the merits of their position on the court to gain points, or replays of a point, are not part of the format. The only exceptions are when a referee decides that the play has to be stopped for safety reasons.
I have been following PST on and off for a while. But, up until a week ago, I had not had a chance to watch a real match being played under the no-let rule. At the recently concluded Meadowvale Open, it became clear to me that, at the right level, the game can be played without "let" calls.
When the players really set their minds to it, they are able to clear in a timely manner, to avoid being penalized with a stroke. The games were quick and disputes were rare.  The semi-final match between the eventual winner Robbie Temple and Club-favourite Ahad Raza was a treat to watch. Temple – ranked as high as 52nd in the world in 2012 – with his two-handed back hand boasts, drops, and length shots appeared to have a mental edge over Ahad, who seemed a little tentative in adapting to the no-let rule. The whole match was played with only three safety "lets" and one good-natured dispute regarding a call.
It was evident that playing under the unfamiliar system can get to the players, as well as the referee.  In fact, refereeing a PST match can be more stressful than a regular match played under Professional Squash Association (PSA) rules. Every call has to be"stroke;" there is no leeway. This post titled "My experience with PST and the no "let" rule" by Mick Joint, though a little dated, gives a humorous, yet serious insight into the no-let style of play. As Ahad took his turn to referee the ensuing semi-final match, it was clear that he was often tempted to give "lets" but had to stick with the rule and call "strokes," occasionally leaving the audience wondering about the call.
As squash continues to struggle to gain IOC's respect, and television viewership, should the no-let rule be added to the list of improvements being made to the game?
But then again, [Tweet "Can no-let #squash be played at the club level without a referee?"]