Twelve things about squash that I don't enjoy…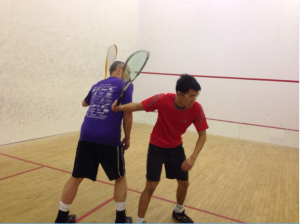 The energy, the workout and the social aspects of squash are some of the things that bring me back to the squash court. However, like anything else, there are some aspects of the game, players' behaviour, and the inherent dangers of squash that I would like to see less of. Here are twelve things about squash that I don't enjoy.
Monopolizing warm up time – Dealing with an opponent who hits twenty warm up shots on his/her side before passing the ball can be frustrating to say the least. A fifty-fifty split would be nice!
Incessantly arguing "let" calls – Every club has their share of players who dispute "let" calls that go against them. Would be good if they could make their point and move on.
Body checking to establish "let" calls – Tackling opponents from the back to let them know that they are in your way is a little extreme. It must be the hockey influence!
Getting hit with the squash ball – If you play squash, you will get hit with the ball at some point. Unintentional or intentional hits are part of the game. Either way, it's not an enjoyable experience.
Getting hit with the squash racquet – The same as above. Except, hits involving racquets are almost always unintentional. Beware of tennis players on the squash court!
Players who crowd opponents – In a referee-less game, this can be a problem. Here's a squash song by a band called White Pigeon that is appropriately called "Don't get too close."
Fishing for unrealistic "lets" – Occasionally, players seem to forget that they need to have a legitimate chance at getting to the ball and making a shot.
Calling interference and then continuing to play – Players need to realize that it is an "either or" situation. Hitting a winning shot after your opponent has stopped play, sort of defeats the purpose.
Racquet abuse – Players who throw racquets and smash the ball when it is not in play can be disconcerting. Cooler heads need to prevail on the squash court.
Squash goggles that fog up – So called "non-fogging" eye protection goggles that fog up the minute you set foot on the court can be a pain in the neck. I am still searching for the one that lasts me a full game!
Forty minute duration for court bookings – Having to give up the court as you head into the fifth game can be a bummer!
Marking shoes on the squash court – A squash court with black scuff marks from running shoes or cross trainers is more than a visual distraction. It can result in an uneven floor surface and slow the ball down.
So, what are some aspects of squash that bug you? Please comment and share using the options below.